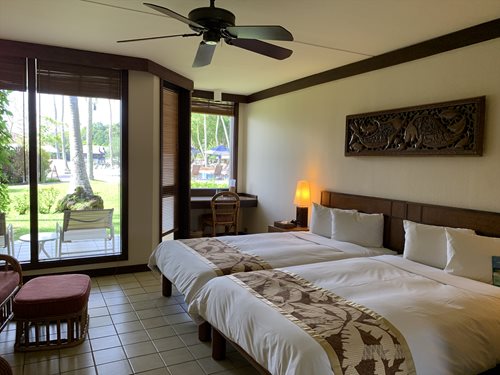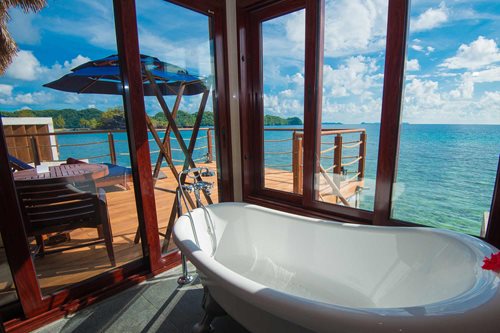 ---
.:
Palau Pacific Resort is a tropical paradise that offers luxury and tranquility in equal measure. Nestled on a private beach with stunning views of the Pacific Ocean, this resort is the perfect place to escape the hustle and bustle of everyday life and immerse yourself in the natural beauty of Palau.
The resort features 160 unique guestrooms, suites, and overwater bungalows, all designed to blend in with the surrounding environment and respect the local culture. The rooms are spacious and comfortable, with modern amenities and elegant furnishings. You can choose from garden, ocean, or lagoon views, or opt for a bungalow that sits on stilts over the water and has direct access to the lagoon. Some rooms also have private balconies or terraces where you can relax and enjoy the breeze.
The resort offers a range of facilities and services to make your stay memorable and enjoyable. You can indulge in a pampering treatment at the Elilai Spa, which uses natural ingredients and traditional techniques to rejuvenate your body and mind. You can also take advantage of the fitness room, tennis courts, swimming pool, and water sports center, where you can rent kayaks, paddle boards, snorkeling gear, and more. If you're feeling adventurous, you can join one of the daily excursions that the resort organizes, such as diving, fishing, island hopping, cultural tours, or nature walks.
When it comes to dining, you'll be spoiled for choice at Palau Pacific Resort. The resort has two restaurants that serve a variety of cuisines, from local seafood and prime steaks at Meduu Ribtal to international dishes and themed buffets at Coconut Terrace. You can also enjoy a casual meal at the Beach BBQ or a romantic dinner under the stars at Mesekiu Water Bungalow. For drinks and snacks, you can head to the Poolside Bar or the Lobby Lounge, or order room service at any time of the day.
Palau Pacific Resort is not only a luxury destination, but also a responsible one. The resort is committed to sustainability and community impact, and has implemented several initiatives to protect the environment and support the local people. The resort's private lagoon has been declared as one of Koror State's conservation areas, and is home to a variety of corals, fish, and giant clams³. The resort also participates in coral reef restoration projects, marine life monitoring programs, beach clean-ups, and environmental education campaigns¹. The resort also supports local artisans, farmers, fishermen, and businesses by sourcing local products and services whenever possible¹. The resort also sponsors cultural events, sports teams, schools, and charities in Palau¹.
Palau is a small island nation in the western Pacific Ocean, known for its rich biodiversity, pristine waters, and fascinating history. Palau has more than 300 islands, most of which are uninhabited and covered with lush forests. Palau is also home to one of the world's most diverse marine ecosystems, with over 1,500 species of fish and 700 species of coral. Palau is a paradise for divers and snorkelers, who can explore the famous Rock Islands, Jellyfish Lake, Blue Corner, German Channel, and many other sites. Palau also has a rich cultural heritage, influenced by various civilizations that have inhabited or visited the islands over the centuries. You can learn more about Palau's history and culture at the Belau National Museum, Etpison Museum, or Palau Cultural Village.
Getting to Palau Pacific Resort is easy and convenient. The resort is located on Arakebesang Island in Koror State¹, which is connected to Koror Island by a bridge. Koror Island is where most of Palau's population and infrastructure are concentrated. The resort is only 20 minutes away from Palau International Airport¹, which has direct flights from several Asian cities such as Taipei, Seoul, Tokyo, Manila, Hong Kong, Macau, Guam, Yap, etc. The resort provides airport transfers for guests upon request¹.
The room rate at Palau Pacific Resort starts from $350 per night for a Garden View Room to $1,200 per night for an Overwater Bungalow. The room capacity varies from two to four people depending on the room type. The resort welcomes kids of all ages and provides cribs and babysitting services upon request. The resort is accessible for guests with disabilities and has wheelchair-friendly rooms and facilities.
Ethical credentials:
Actively reduces consumption
Ecosystem preservation
Solar powered or renewable energy
Facilities:
Gym
Spa
Pool
Private pool
Restaurant
Bar
Wifi