Republished content: Read the original post
If you're like me, hiking around Patagonia has been on your bucket list for a while but it's a LOT of (very high!) ground to cover. How do you know where to start? I certainly only had Puerto Natales in mind for the famed W and O Treks, but my research turned up plenty more options. In Argentina alone, four main destinations kept popping up: Bariloche, El Calafate, El Chaltén and Ushuaia. To help plan your trek, here's my take on who they suit, what they offer, and things to keep in mind.
San Carlos de Bariloche
If you want to fly to northern Patagonia, you'll most likely land in San Carlos de Bariloche, which everyone shortens to Bariloche. It's a major destination for people who want to ski in the Patagonian mountains. The slopes are lots of fun with views that I'd say are too distracting to ski safely, but then I'm easily distracted. The ski season ends around the beginning of October, depending on weather, and then us hikers reign until May. But if you really like winter hiking, there are some trails open year round, so go for it!
Since Bariloche is in the Lake District, many hikers look forward to the multiple glacial lakes in the area, such as Lago Nahuel Huapi. They are all so crisp, clean, and reflective that you might find yourself stuck in place staring at them all day (ok, maybe that's just me). But add in the fresh forest air and gorgeous snow-peaked mountains, and you'll be ready to set up camp on any trail you take. I mean, we're talking about Bob Ross paintings in real life here. Another bonus? Bariloche is famous for its chocolate, so be sure to get some for snacking.
Pro tip: Lago Perito Moreno is here too but don't be fooled. If you want to see Glaciar Perito Moreno then you have to head to El Calafate. (Wow! What a segue.)
El Calafate
Located at a midway point along the Patagonia range (and usually the flight stopover to Ushuaia) is El Calafate. Admittedly, there isn't much to do here but it's close to Glaciar Perito Moreno, one of the most important glaciers in Argentine Patagonia. The glacier is massive and seeing its colours in person doesn't compare to photographs. Why is it so important? Well, it's the most accessible for drinkable water, research, and tourism.
Inside Parque Nacional Los Glaciares there are three main activity options: a glacier trek, boat tour, and boardwalk exploration. On the first, you traverse the glacier itself, discover its nooks and crannies, and even try the ice in a drink! I wanted to do this one but it was full for the next two weeks so be sure to book in advance. On the second, you board a comfy catamaran to cruise along the ice wall. I took this one and really enjoyed it. You don't get to be on the ice itself but you do get close enough to fully appreciate the enormity of this natural beauty. And the third is what comes with the park entrance fee. Boardwalks run along the cliffs across from the glacier, so you can see the Perito Moreno Glacier in all of its blue and white splendour. If you're really lucky, you might hear it crack and maybe even calve and break into icebergs.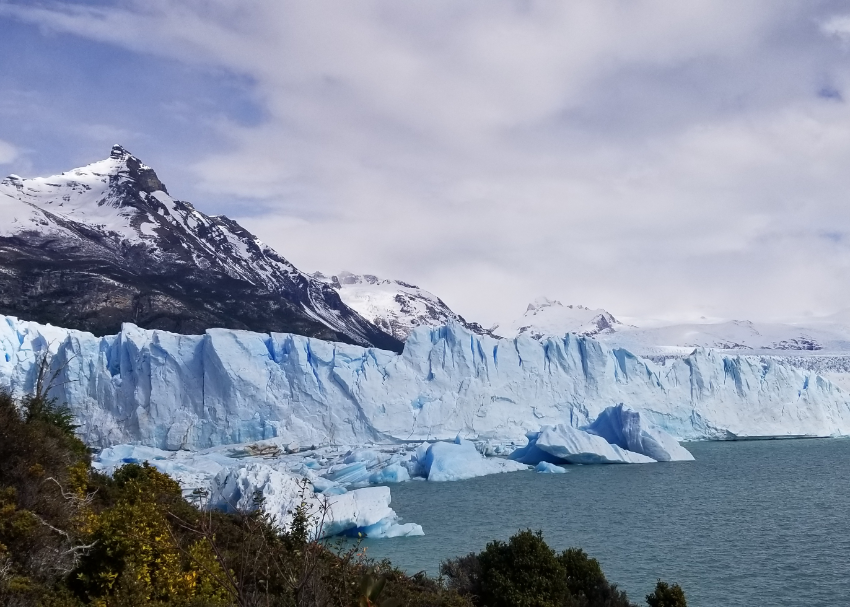 If you follow the boardwalk to the east, you'll eventually reach Reserva Laguna Nimez where you can walk around a marsh-like area to spot birds. As summer approaches you can see Chilean Flamingos, as well as Southern Lapwings, Austral Negritos, Chimangos, and over 40 more bird types. You'll also find tons of Upland Geese making the funniest sounds! You'll hear them before you see them up in the trees along the main street. Honestly, you'll think someone's blowing a noisemaker.
Got your heart set on free hikes? You're still in the right spot as most people use El Calafate as the transit city to get to El Chaltén.
El Chaltén
Welcome to hiker's heaven with numerous treks you can take from town without park entrance fees. If you look on an app like AllTrails you'll find about seventeen. Book a taxi to just outside of town and your options get even greater. Of course, one of the big highlights here is hiking to view Monte Fitz Roy including the beautiful Laguna de los Tres. You may experience all four seasons on the trek but every step is worth it.
Ushuaia
And that brings us to Ushuaia, dubbed the "End of the World". Disclaimer here: I fell in love with this town so my descriptions may be a bit more colourful than the others. Wherever you look, there are gorgeous mountain views plus the city sits right on the Beagle Channel. "But Dina," you say, "the other cities also have mountains and water." They do but it's all SO much closer in Ushuaia. You feel like you're in the mountain range while still in the city.
Puerto Natales, Chile
And last but not least, Chile! I can't leave out the one city every Patagonian hiker knows. Pretty much everyone in Puerto Natales is here for the W or O Trek in Parque Nacional Torres del Paine. These treks take anywhere from three to eight days depending on how much you want to tackle in a day. But if that's not your thing, there's a ton of day treks like the popular Base of Torres del Paine, which is a part of the W circuit.
Overall, if you really want to go off the beaten track you can check out some of the smaller towns, but in a place as big as Patagonia sometimes it's easier to stick with what's well-known and works. My favourite was Ushuaia but you can't really go wrong so get out there, hike to your heart's content, and enjoy the mountain-and-lake-filled views.